The number of wrong way driving accidents has been on the rise in Tampa, and this alarming trend continued on Thursday when four instances of wrong-way drivers on Bay area roads were reported, including one that resulted in a fatal crash.
This recent activity comes despite law enforcement being extra vigilant when it comes to wrong-way drivers.
A Spring Hill man was killed on US 41 Thursday when the car he was a passenger in crashed head-on into another car near State Road 52. The 39-year-old man was killed and his 38-year-old wife suffered critical injuries. The driver of the other car, a 40-year-old Tampa man remains hospitalized in serious condition.
Troopers said alcohol was not a factor in that crash. This man's death is the 12th this year due to a crash involving a driver going the wrong way on a Bay area roadway.
That fatal accident was the last of four incidents Thursday. Two of the other three did involve alcohol, according to authorities.
Hillsborough County Sheriff's deputies stopped two wrong-way drivers in separate incidents earlier Thursday.
Deputies started getting telephone calls just before 2 a.m. about a wrong way driver in eastern Hillsborough County. Deputies said the woman was stopped driving the wrong way on Highway 60 East at Turkey Creek Road. She was arrested on DUI charges.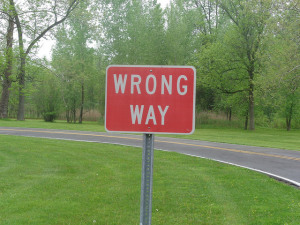 Just two hours later, another driver was stopped by deputies going north in the southbound lanes of the Veterans Expressway just south of Gunn Highway. Deputies believe the driver of the Toyota Corolla, a 34-year-old Tampa man, smelled of alcohol, had delayed reaction and watery and red bloodshot eyes. Deputies also allege his blood alcohol was measured at more than two times the legal limit.
And a few hours after that, the Florida Highway Patrol received multiple calls about a motorcycle going the wrong way on Interstate 275 near downtown Tampa.
Troopers responded and located the 25-year-old Tampa biker standing along the southbound inside shoulder next to the parked 2015 Harley Davidson motorcycle which was facing north.
The man told troopers he had entered the interstate at Busch Boulevard and was traveling southbound listening to music from his smart phone. According to reports, the man dropped his phone south of Dr. Martin Luther King Jr. Boulevard and decided to travel back along the inside shoulder to the area where he had dropped his phone to find it.
The man's motorcycle was towed from the scene because troopers said he had a suspended driver license at the time of the incident. No charges were filed.
There were no crashes or injuries in the other three wrong way driving incidents.
Drivers that intentionally or unknowingly drive the wrong way on a street, highway or interstate pose an imminent threat to all other motorists and passenger sharing the roadway. Due to the fact that automobiles are heading directly toward one another at a high rate of speed, there is usually very little or no time at all for drivers to react to the situation and avoid the collision. Wrong-way crashes are almost always head-on collisions that result in serious injuries or even death, as Thursdays' fatality shows.
If you were injured or lost a loved one in wrong way driving accident, you should speak with a Tampa Bay Auto Accident Attorney at Whittel & Melton as soon as possible. We have experience with wrong way driving lawsuits as well as negotiating motor vehicle accident settlements. To learn more about your legal options, call 813-221-3200 to schedule a free legal consultation, or contact us online.