Two wrong-way drivers were arrested on Friday after officials said the drivers were operating their vehicles under the influence of alcohol.
According to reports, a 41-year-old Miramar man was driving a 2005 Acura traveling eastbound in the westbound lanes of S.R. 574 around 2:15 a.m.
Deputies said they stopped the vehicle and noticed that the man had glassy and bloodshot eyes, was unsteady on his feet, appeared very confused and had an odor of alcohol on his breath.
The man's blood alcohol content was .196., according to deputies.
Nearly two and a half hours later, police arrested another wrong-way driver in Tampa.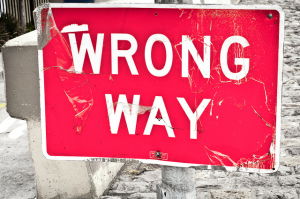 Officials claim the man was operating a 1998 Honda around 4:45 a.m. traveling eastbound in the westbound lanes of Adamo Drive when deputies pulled him over.
Reports show that the man smelled of alcohol and had slurred speech and watery eyes.
Both of the men were charged with driving under the influence.
Drunk driving is a very serious offense that can result in jail time for the offender. Victims of drunk driving accidents deserve to be compensated for their pain and suffering, medical costs and other losses that resulted from the accident. Most people recognize that they can sue a drunk driver for their injuries, but what most people fail to realize is that the pub, bar, restaurant or even the party host that served alcoholic drinks to the driver could also be held liable for damages under Florida's dram shop laws.
If you have been involved in a Tampa Bay area accident with a drunk driver and you suffered injuries, call a Tampa Bay Auto Accident Injury Lawyer at Whittel & Melton today at 813-221-3200 so that we can provide you with a free consultation regarding your accident and your rights. We can help you get justice and fair compensation for your injuries.