A Tampa man was killed Monday after his van was involved in a crash with a semi truck on Fowler Avenue in Tampa Bay. 
The 58-year-old man behind the wheel of the van was travelling east on Fowler around 10:30 p.m. when he failed to navigate a curve in the road.  The Florida Highway Patrol said the van exited the roadway and crossed the median right into the path of a big rig that was heading north. 
The van became stuck under the semi truck and eventually came to a stop near the west shoulder of southbound 301. 
The driver of the van was pronounced dead at the scene. The semi truck driver was not injured.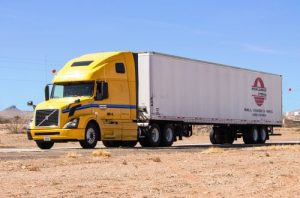 Semi truck accidents involving smaller passenger vehicles are often fatal. The sad truth is that passenger vehicle occupants account for the most deaths in big rig crashes. Semi trucks can weigh almost 20-30 times more than smaller vehicles sharing the road and they have a much higher ground clearance, which means that smaller cars can under ride semis when collisions occur. That appears to be what happened in this particular case. 
Truck braking is also a huge factor in semi truck accidents. Big trucks carrying heavy loads can take 20-40% farther than smaller vehicles to stop. The stopping distance on a loaded semi on a wet road or with poorly maintained brakes can be even greater. 
In 2018, 4,136 people died in crashes involving semi trucks, according to the Insurance Institute for Highway Safety (IIHS). Of these deaths, only 16% were semi truck occupants, 67% were occupants of smaller passenger cars, and the remaining 15% were motorcyclists, bicyclists, or pedestrians. 
Data from the IIHS shows that in 2018 52% of deaths from semi truck accidents happened on major roads that were not interstates or freeways, 33% happened on freeways or interstates, and the remaining 14% happened on minor roads. The bulk of these crashes in 2018, 50%, took place during the hours of 6 a.m. to 3 p.m.
Tractor trailer accidents can cause very serious and many times fatal injuries. While some trucking accidents may not be the fault of the truck driver, those that are need to be handled by a truck accident attorney with the experience necessary to take on this type of claim. Truck accidents happen quite frequently and leave many people seriously injured or killed. Our Tampa Truck Accident Attorneys at Whittel & Melton handle personal injury and wrongful death claims. If you or someone you love has been involved in an accident caused by a negligent truck driver, we are here to help with your case. 
Trucking companies are required by law to follow strict guidelines when it comes to truck maintenance and driving hours. Truck driver regulations can be confusing and hard to understand, which is why legal help after a truck accident is essential. Due to the high standards placed on truck drivers, it is not uncommon for trucking companies to falsify their records as a means to protect their drivers from facing liability after a crash. This is where our Tampa Truck Accident Attorneys at Whittel & Melton can step in and make sure a thorough investigation is conducted. We will review the accident and police reports, investigate the crash site, talk to any witnesses, look into the truck driver's credentials, and determine if all traffic laws were followed. 
Injury victims of truck accidents will need legal representation to ensure that their rights are protected and that they recover the full and fair compensation they are entitled to. Our Tampa Bay Truck Accident Attorneys at Whittel & Melton know what is needed in these types of cases which is why you can trust that we will perform a proper investigation of our own into the accident and analyze all of the evidence discovered so that we can be successful in proving fault in your truck accident injury claim. 
Injury and wrongful death matters involving tractor trailers, semi trucks, big rigs, etc. are much more complicated that standard motor vehicle collisions. This is why having an experienced injury lawyer on your side is so important. Our goal is to make sure you can focus on your recovery while we work towards a favorable settlement on your behalf. We will put our knowledge of state and federal trucking laws and regulations to work for you in your personal injury or wrongful death matter.