A three-vehicle collision in Oldsmar Wednesday afternoon took the life of an 81-year-old man.
The accident occurred around 2:47 p.m. at the intersection of Tampa Road and St. Petersburg Drive.
According to Pinellas County sheriff's deputies, the Clearwater man's wife, 65, was driving a 2005 Cadillac DeVille west on Tampa Road and went to make a left turn onto St. Petersburg Drive when her car was struck on the passenger side by two vehicles — a Jeep Liberty driven by a 32-year-old woman and a Ford Fusion driven by a 31-year-old man.
The deceased was trapped in the debris for about a half-hour before firefighters from Oldsmar Fire Rescue extracted him from the wreckage, according to reports. He was flown by helicopter to St. Joseph's Hospital, where he was pronounced dead at 4:17 p.m.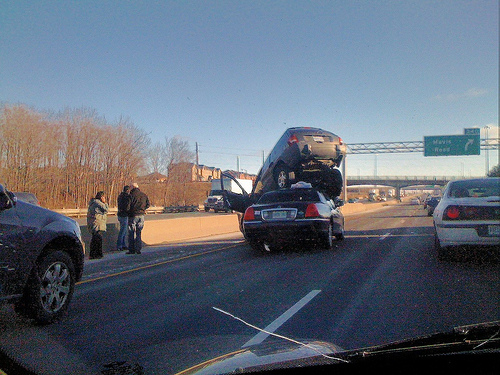 The man's wife was taken to St. Joseph's with injuries that were not considered life threatening.
The other drivers involved in the pileup were not harmed.
The crash remains under investigation.
Any type of motor vehicle accident can lead to serious injuries to all parties involved. However, when multiple vehicles are involved in a crash, injuries are often compounded. Multi-vehicle accidents can result in catastrophic injuries including head, brain, neck and spinal cord trauma. Sadly, these types of collisions often end in fatality.

Determining fault in a multiple vehicle collision can extremely complicated. If someone you love was killed in a pileup accident, a Tampa Bay Wrongful Death Lawyer at Whittel & Melton can help determine who is liable for the accident. Establishing fault is a key element in any car accident or wrongful death claim. The individual or individuals at fault are those parties whose negligence caused the accident. In order to determine liability for wrongful death after a car accident, it is crucial to perform a thorough investigation to preserve any significant pieces of evidence.
If a loved one was unexpectedly taken from you in an auto accident of any kind in Clearwater, Clearwater Beach, Oldsmar, Pinellas Park, Palm Harbor or any of the surrounding areas, you can rely on a Tampa Bay Wrongful Death Attorney at Whittel & Melton to provide you with the caring, attentive and responsive service you need. It will cost you nothing to consult with us to see if you have a viable claim. If we fail to recover financial compensation in your case, you will not owe us any legal fees. To schedule a free consultation, please call us today at 727- 823-0000 or contact our firm online.