A 42-year-old St. Petersburg woman was killed Monday after the vehicle she was riding in was broadsided on Fourth Street N. in St. Petersburg.
According to police, the woman was a passenger in a 1992 Buick driven by her 53-year-old roommate. The crash occurred around 7 p.m.
Police claim the woman's roommate was heading north on Fourth Street when he turned into the path of a 2003 Toyota at 54th Avenue N.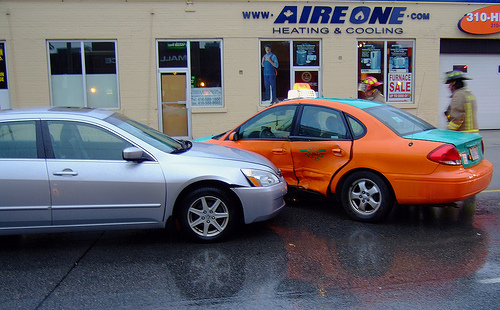 The driver of the Toyota, a 42-year-old St. Petersburg woman, struck the Buick between the wheels on the passenger side, critically injuring the woman. She was rescued from the vehicle and taken to Bayfront Medical Center, where she was pronounced dead just a short time later, according to police.
The woman's roommate was taken to Bayfront with minor injuries. The driver of the
Toyota was treated for minor injuries at the scene of the collision.
Police are currently still investigating the accident.
Some of the most serious and deadly motor vehicle accidents in St. Petersburg and the surrounding area involve broadside crashes. A broadside car accident, also referred to as a side impact or T-bone crash, usually occurs at an intersection. These collisions can happen at a busy St. Pete intersection, in a residential neighborhood or on any of St. Petersburg's heavily travelled roads.
Next to head-on collisions, broadside collisions are the second most deadly kind of auto accident. Broadside impacts usually lead to severe injuries to the drivers and passengers involved in a crash. Drivers and passengers often suffer from brain injuries, spinal fractures, broken bones and head and neck injuries. These accidents have a high percentage of injuries and fatalities due to the fact that the sides of most vehicles do not offer the same protection as the front and rear do, even though most newer cars are equipped with side impact airbags. T-bone collisions also typically occur at high speeds, usually when someone runs a stop light or a red light at an intersection.

If you or a family member has been injured, or a loved one has been killed in a St. Petersburg broadside motor vehicle accident, please contact a St. Petersburg Auto Accident Lawyer at Whittel & Melton today online or call 727-823-0000. You may be entitled to monetary compensation for damages, which can help cover the costs of medical bills, lost wages and to relieve your pain and suffering. We will work with all the insurance companies involved to represent your best interests. Time is of the essence in personal injury and wrongful death claims, so do not delay as there is a limit on how long you can wait to file a claim. We can begin helping you immediately.
Photo credit: ageing accozzaglia / Foter.com / CC BY-NC-ND