A Tarpon Springs man died Sunday in Clearwater after he lost control of his car, injuring two other drivers.
According to the Florida Highway Patrol, the 20-year-old was travelling southbound at a high rate of speed in his 2003 Honda Accord in the outside lane of U.S. Highway 19 when he lost control. The Honda flipped and crossed over the grass median, where it smashed into a van heading northbound, driven by a 36-year-old St. Petersburg man.
The Honda overturned and landed on top of a 1996 Mazda Miata driven by a 50-year-old Brandon man.
The deceased was not wearing a seatbelt and was ejected from the Honda Accord and struck by the van.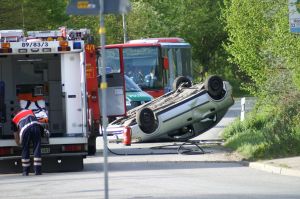 Troopers said each of the vehicles involved in the crash came to a stop in the northbound lanes of U.S. 19, just north of Hammock Pine Blvd.
The 20-year-old driver of the Honda Accord was pronounced dead at the scene. The 36-year-old driver of the van was taken to Largo Medical Center and the 50-year-old driver of the Mazda Miata was taken to Mease Countryside Hospital, both with minor injuries.
The accident is still being investigated by the FHP.
It can be devastating to lose someone close to you unexpectedly due to another person's negligence or wrongdoing. This experience can be made even more difficult when having to figure out how to pay for expensive medical bills or funeral costs. Depending on the circumstances surrounding a loved one's death, family members may be able to recover compensation to ease financial strain by filing a wrongful death lawsuit against the negligent or reckless party. While no amount of money will be able to bring back your loved one, it can provide you with a sense of closure so that you can focus on healing and moving on from this tragedy.

Filing a wrongful death claim against a careless individual or negligent party can be complicated. Because taking legal action can be complex, it is important to obtain legal representation as soon as possible after an accident. A Tampa Bay Wrongful Death Attorney at Whittel & Melton can help you determine whether or not you have a case and make sure you know what to expect. Family members must take swift legal action following the death of a loved one because in Florida, the time period in which a wrongful death lawsuit can be filed is two years from the date of death.
If you would like more information on whether or not you may be able to file a wrongful death claim on behalf of your loved one, contact a Tampa Bay Wrongful Death Lawyer at Whittel & Melton online or call us at 813-221-3200. Your initial consultation with us is free of charge and we can make sure you fully understand the benefits you are entitled to receive for your losses.