Three people were injured this weekend after a staircase on the side of a home collapsed while they were standing on it.
Two adults and a child were standing on the metal staircase that rose two stories on Saturday, when it collapsed after the legs supporting it gave out.
The three were transported to a local hospital. According to officials, no one suffered serious injuries.
The cause of the collapse is still under investigation at this time.
While most of us use stairs on a daily or regular basis, we rarely consider the dangers that staircases present. Most staircase injuries involve people slipping or tripping and falling on stairs, but there is also the risk of staircases collapsing. When a staircase collapses, it is usually the result of inadequate upkeep of the property on behalf of the property owner.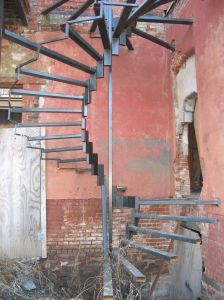 Property owners have a duty to inspect the stairs on their premises regularly and repair any damages or deterioration. When property owners do not live up to their responsibilities, staircases can collapse and cause serious injuries, such as broken bones, internal organ injuries, head and neck trauma, spinal cord damage and even wrongful death.
Stair collapses are very grave events that can deliver severe and permanent injuries to those involved. Sadly, these collapses are often completely preventable as many staircase collapses are caused by various factors that can be recognized and repaired through routine maintenance. Nonetheless, many property owners or building managers choose to neglect stairwells just to save a little bit of time and money.

Staircase collapse accidents can be caused by a variety of structural issues and defects, including:
• Rotten Wood
• Broken or Rotted Foundational Beams
• Railing Breakdowns
• Cracked or Broken Steps
• Broken Joints
• Rusted Metal
When any of the above issues arise, they must be properly fixed before any individuals use the stairwell. If a property owner or building manager does not put forth the time and effort to locate a stairwell hazard through regular upkeep, they can actually be held liable for any injuries that occur because of the existing danger.
If you or someone you love has been hurt in a staircase collapse accident, it may be possible to recover financial compensation related to the costs of medical bills, lost wages, pain and suffering and other damages. For further information regarding your legal rights and options following a stairway collapse, contact a St. Petersburg Injury Attorney at Whittel & Melton online or call 727-847-2299. We can begin helping you immediately, so do not delay. We are committed to making sure you receive the full and fair compensation you need and deserve.