A two-year-old girl who managed to crawl through a doggie door and fall into a backyard swimming pool Friday night in Pinellas Park died on Sunday from near-drowning injuries.
The girl passed away around 8:30 a.m. on Sunday morning at All Children's Hospital, according to Pinellas Park police.
A family member discovered the toddler floating in the pool around 4:20 p.m. Friday.
Police claim the child was not breathing. Emergency responders took the girl to St. Petersburg General Hospital where they were eventually able to resuscitate the child. However, she was still unconscious when she was later taken to All Children's Hospital.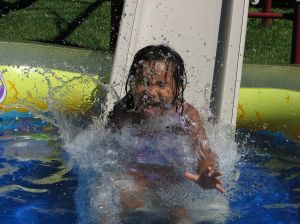 A new report recently released by the Consumer Product Safety Commission shows that children under the age of five years old account for more than 75 percent of all swimming pool and spa submersion fatalities in the United States. Government data also indicates that more than 78 percent of all pool and spa submersion injuries in the U.S. involve children younger than 15 years old. The CPSC Pool Safely Campaign also highlights that African-American and Hispanic children between the ages of 5 and 14 are at a higher risk of drowning.

The risk of your child being involved in a swimming pool accident is much higher during the summer months because more children are granted access to backyard pools, public pools, water parks and hot tubs. If your child is using your own swimming pool, visiting a water park or hotel pool or even stepping into a neighbor's pool this summer, know that drowning is the leading cause of unintentional death for children between the ages of 1 and 4.
According to the CPSC, children between the ages of one and three make up 67 percent of all swimming pool drowning fatalities and 64 percent of injuries. African American children between the ages of 5 and 19 are found to be up to six times more likely to drown in swimming pool accidents when compared to Hispanic and white children of the same age group, according to the Centers for Disease Control and Prevention. Data from USA Swimming indicates that nearly three quarters of African American children and up to 62 percent of Hispanic children do not know how to swim. Children that do not know how to swim are definitely at an increased risk for drowning. As a result, pediatricians and the American Red Cross encourages all parents to enroll children under the age of five in swimming lessons as soon as possible to reduce the risks of being involved in a drowning accident.
Sadly, swimming pool drowning fatalities are a common occurrence. In Florida, more children under the age of five drown in swimming pool accidents than any other state. If you or someone you love has been injured or killed in a swimming pool drowning or near-drowning accident, a Tampa Bay Swimming Pool and Drowning Accident Attorney at Whittel & Melton can help. Contact us today online or call us locally at 813-221-3200, or reach us statewide and toll-free by dialing 866-608-5529.