A new shuttle service made its debut Monday to haul students to and from school near a busy stretch of Hillsborough Avenue that has had deadly pedestrian accidents.
The shuttle was started to protect students, and runs from the Meridian Pointe Apartments to nearby Middleton High School. Officials with the Hillsborough County School system believe the shuttle provides students with a great  alternative from crossing the busy street mid-block.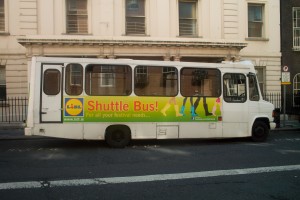 There is a crossing several blocks away at 22nd Street.
On March 17, two sisters, 14 and 15, were hit while trying to cross east Hillsborough Avenue near 25th Street to get to school. The 15-year-old sister died from her injuries on March 22. The 14-year-old is recovering from a broken arm.
The 15-year-old girl was the second student killed in the location since 2011.
The Florida Department of Transportation has also been examining this busy stretch of the roadway. There are plans to add 125 new lights along Hillsborough Avenue between Nebraska Avenue and 50th Street.
Until this project is completed, the shuttle will continue to pick up students every morning starting at 6:45 a.m. for the rest of the school year.
While these new projects and services may work to minimize the number of accidents in the Tampa Bay area, there are many steps that both motorists and pedestrians can take to help improve safety. Drivers approaching intersections or crosswalks should always keep an eye out for pedestrians in the area. Motorists should always be aware of right-of-way rules and abide by them as well as use their turn signals properly. Pedestrians should be alert when in the roadways and only cross in designated areas. Most motorists are prepared to see pedestrians in these locations and can be prepared to stop. It can be a good idea for pedestrians to make eye contact with drivers so that they know the pedestrian is planning to cross the street.
Unfortunately, pedestrian accidents can result in serious injuries that take a long time to heal from, or worse, death. Victims who do recover from these accidents must often spend a significant amount of time receiving treatment for their injuries, and then must endure rehabilitation in order to resume their normal life. This can bring about costly medical bills both now and in the future.
If you have been injured in a pedestrian accident, or if someone you love was taken from you in a pedestrian collision, please call a Tampa Bay Pedestrian Accident Attorney at Whittel & Melton as soon as possible at 813-221-3200. We can advise you of the legal options that are available to you, and make sure you fully understand the decisions that you will need to make. We can help ensure that you receive the maximum compensation for your losses. Contact us 24/7 online to request a complimentary consultation.