Two sisters walking to Middleton High School in East Tampa early yesterday were struck by a car, leaving one of the sisters critically injured.
According to Tampa police, the sisters, 14 and 15, were hit while crossing Hillsborough Avenue near 25th Street.
Both girls were taken to an area hospital. The 15-year-old, a sophomore, is in critical condition. The 14-year-old, a freshman, is stable.
The crash occurred shortly after 7 a.m. as the sisters tried to cross Hillsborough outside of the crosswalks.
The driver, a 17-year-old Hillsborough High School student will not face charges, according to police.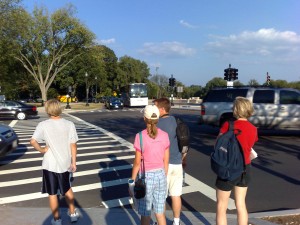 Middleton High School is located just south of Hillsborough Avenue at 4801 N 22nd St., a short distance from the crash site.
This is not the first incident where a student has been hit crossing this busy street. Another Middleton High student was killed in 2011 when she failed to use a crosswalk.
According to the National Highway Traffic Safety Administration, every year nearly 5,000 pedestrians are killed in motor vehicle-related accidents, and more than 78,000 pedestrians are severely injured in automobile accidents.
When it comes to the laws of the road, both pedestrians and drivers are responsible for following various safety rules. A driver of  a car, truck, SUV or any other motor vehicle must exercise reasonable care when behind the wheel. Failing to exercise reasonable car can include such actions as:
Distracted Driving
Failing to Observe and Follow Speed Limits
Failing to Observe the Right of Way of Pedestrians at Designated Crosswalks
Operating a Vehicle Under the Influence of Drugs or Alcohol
Failing to Account for Poor Weather Conditions
Just like drivers, pedestrians must also follow safety laws and avoid negligent and reckless actions, such as:
Failing to Use Designated Crosswalks
Attempting to Disrupt the Flow of Traffic
Entering Traffic in Front of a Vehicle with no Warning
As a pedestrian, avoiding the above dangerous activities will not only lessen your chances of being involved in a pedestrian accident, but can ensure that you are not viewed as negligent in a personal injury or death matter.
When it comes to pedestrian accidents, those that may be legally responsible for the other person's injuries will often try and blame the pedestrian for the accident by claiming the individual's own negligence was the cause of the collision. If you have been involved in a pedestrian accident in the Tampa Bay area, you should contact a Tampa Bay Pedestrian Accident Attorney at Whittel & Melton as soon as possible for a free consultation to discuss your injuries. Call us today at 813-221-3200 or contact us online.