One person was killed and another remains in critical condition following a serious collision in Hillsborough County Tuesday night.
According to the Hillsborough County Sheriff's Office, a 53-year-old man was killed when his car struck a disabled dump truck along Bruton Road in Plant City.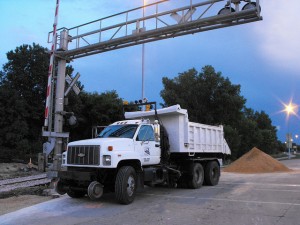 Deputies believe the driver of the GMC dump truck was putting gasoline in the truck, which was broken down on the north side of Bruton Road facing west. The rear of the truck was still in the road when the deceased man's 1996 Nissan collided with it at about 45 miles per hour.
According to authorities, the deceased man failed to see the edge of the truck and ran into it.
The man was pronounced dead at the scene. His passenger was transported to Tampa General Hospital via helicopter and remains in critical condition with severe trauma to the neck.
The dump truck driver was not harmed.
Charges are pending.
A fully loaded dump truck can be very heavy, weighing as much as 65,000 pounds. Unfortunately, an accident between a large truck and a passenger vehicle can result in serious injuries, ranging from broken bones and amputation to traumatic brain injuries, spinal cord trauma and even death.
Like all commercial vehicle operators, dump truck drivers are held to a higher standard than non-commercial drivers. If you or someone you love was involved in an accident with a dump truck or any other commercial vehicle, you need to discuss the facts of your case with an injury lawyer who has a firm understanding of state and federal laws. While every case is unique, there are many truck accident cases that involve drivers violating regulations or laws that you may not have been aware of.
Whether your accident involves a semi or dump truck, these accidents usually result in serious and tragic injuries. If you have been injured, or someone you love was taken from you unexpectedly in a truck accident, you should not have to go through this difficult time on your own. A Tampa Bay Trucking Accident Attorney at Whittel & Melton can help you obtain justice from the party responsible for the truck accident that harmed you or your loved one. Call us today at 813-221-3200 or contact us online learn more about how we may be able to help you.