While numerous safety campaigns and drivers' personal experiences have made motorists more aware of the dangers that distracted driving poses, a recent survey has found that many adults do not fully appreciate the fact that distracted driving can greatly increase the risk of automobile accidents. The survey concluded that many adults continue to use their cellphones while driving, even though they know the dangers of doing so.
The Harris Poll surveyed 2,045 adult drivers about their driving habits during May 2014. Of those adults surveyed, 94 percent said that sending texts while driving is either dangerous or very dangerous. Moreover, 91 percent of those surveyed said the same about reading text messages while driving. However, despite knowing the dangers of texting while driving, 45 percent of those surveyed said that they regularly read text messages while behind the wheel. Another 37 percent admitted to sending text messages.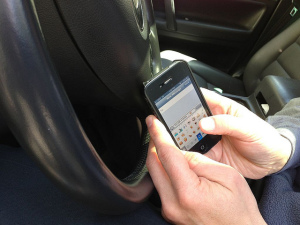 The poll also found that 69 percent of those surveyed agreed that using a handheld cellphone while driving was dangerous, but 74 percent admitted to talking on the phone while driving and 21 percent confessed they did so frequently.
These results combined with the fact that the National Highway Traffic Safety Administration has found that driver distraction killed 3,328 people across the nation in 2012 are especially alarming. The NHTSA also estimates that distracted driving injured 421,000 Americans in 2012.
In order to combat the havoc that distracted driving unleashes on roadways, many states, including Florida, have instituted laws limiting cell phone use while driving. In October, 2013, Florida enacted a limited ban on text messaging while driving. Florida drivers cannot type, send or read messages when behind the wheel. However, Florida's law is a secondary law, meaning that a law enforcement officer can only pull a driver over and issue a ticket if the officer witnessed some other violation, such as running a red light while texting. A police officer cannot stop a driver for simply texting while driving. Violation of this law is punished as a nonmoving violation, but if a crash occurs because of a moving violation and texting the driver will be penalized six points.
If you have been involved in an accident caused by a distracted driver, you may be entitled to seek financial compensation for your medical bills, lost wages and other expenses related to the collision. A Tampa Bay Auto Accident Lawyer at Whittel & Melton can evaluate your claim and make sure that the responsible driver is held accountable. For a free consultation, please call us today 813-221-3200, 727-823-0000 or toll-free at 866- 608-5529. We are proud to help accident victims throughout Hillsborough, Pinellas, Manatee and Sarasota Counties – including Tampa, Brandon, St. Petersburg and Clearwater, Bradenton and Sarasota.