McDonald's has issued a voluntary recall for 2.5 million Hello Kitty lollipop whistles after determining the toys pose a choking hazard to small children.
According to reports, McDonald's received two reports of children choking on pieces of the Hello Kitty Birthday Lollipop Whistles. One of the children did require hospitalization.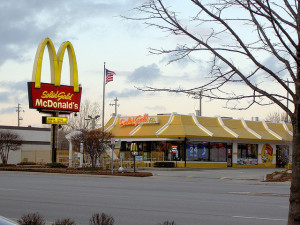 The recall confirms that parts inside of the whistle can come loose and be inhaled by small children.
In the United States, 2.3 million whistles were distributed, and 200,000 were distributed in Canada in October and November.
The toys were included in McDonald's Happy Meals and Mighty Kids Mills.
The U.S. Consumer Product Safety Commission provided the following information on the toy:
The recalled whistles are red come in a plastic Hello Kitty figuring holding a pink heart-shaped lollipop. The figurine is about three inches tall.
The whistle measures approximately 1.75 inches in height, 1.75 inches in width, and .75 inches in depth. A picture of Hello Kitty is included on both sides of the whistle.
"©1976. 2014 SANRIO CO., LTD" is etched in both the whistles, just above Hello Kitty's face.
"Hello Kitty® Birthday Lollipop" is written on the bag the toy comes in and the number "6" is printed in the top right corner.
Choking and suffocation can cause severe brain damage and even death. The long-term medical care associated with a child who has suffered brain damage as a result of choking can financially ruin a family.
While cases like these are all unique and fact specific, you and our family may be able to recover financial compensation if your child was injured or killed because of a faulty product. Our Tampa Bay Injury Lawyers know how devastating it is when hazardous products result in serious and fatal child injuries. With that said, if your child choked on a dangerous product that was the subject of a recall or CPSC ban, we can help. Please call us today at 813-221-3200 or toll-free at 866-608-5529 to discuss your rights, or contact us online to request a free, no-obligation consultation.