According to the National Highway Safety Administration, Japanese auto parts maker Takata Corp. refuses to cooperate with the government's investigation of its air bags.
The NHTSA announced on Friday that it will impose fines of $14,000 a day that will continue until key safety information is provided.
Here are the key points you need to know regarding the Takata airbag recall:
What The Problem Is. The inflators propelled by ammonium nitrate can explode with too much force, which can result in shrapnel ejecting onto drivers and passengers. At least six people have been killed and 64 injured worldwide due to the problem. Since 2008, 17 million vehicles have been recalled in the U.S. by 10 different automakers. Currently, only 2 million, or around 12 percent, have been fixed because of a lack of parts.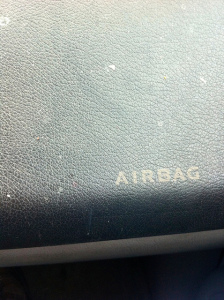 Recall Areas. Government investigators believe that too much exposure to moisture in the air can cause the inflator to build up excess pressure, which can shatter metal canisters meant to contain the explosion that inflates the bags. Driver's side air bags have been recalled nationwide, however recalls of passenger side air bags have been limited to Florida, Puerto Rico, areas near the Gulf of Mexico including Texas, Alabama, Mississippi, Georgia, and Louisiana, as well as Guam, Saipan, American Samoa, U.S. Virgin Islands and Hawaii.
Takata's Stance. Takata has challenged the National Highway Traffic Safety Administration's demand for a national recall of driver's airbags. Despite that, automakers did it on their own. Takata claims that tests of 10,000 inflators does not show any reason for the recalls to be expanded.
What is Currently Being Done by the Government. The government has three different  groups testing the air bags: Takata, an independent contractor hired by the company and a group of 10 automakers. In order to force Takata into a national recall, the government must be able to explain what is going wrong with the airbags and why.
What You Can Do to Make Sure Your Air Bags Are Safe. While the air bags are still being tested, you can always check to see if your car has been recalled and get the repairs done as soon as possible. To check, go to https://vinrcl.safercar.gov/vin/ and type in your 17-digit vehicle identification number, which is located on your dashboard near the driver's side windshield. The site will tell you if there's a recall, and if your car is affected, you should call your dealer right away.
Our Tampa Bay Injury Lawyers at Whittel & Melton are currently investigating Takata airbag lawsuits. We offer free legal consultations to all injured parties, as well as the families of victims who may have been harmed by these defective bags manufactured by Takata. To find out more, please call us today at 813-221-3200 or 727-823-0000. You can reach us anytime statewide and toll-free at 866-608-5529 or through our online contact form.