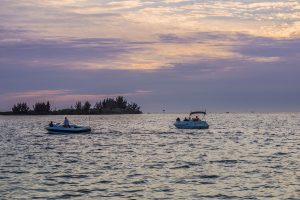 Three people from Tennessee were rescued by the U.S. Coast Guard on Wednesday after their boat capsized in Clearwater about 15 miles off of Florida's Gulf Coast. 
In a news release, the agency said that they were called at 2:09 p.m. by the boaters from Cookeville, Tennessee who told them their fishing boat was flooding and they needed help right away. 
The Coast Guard sent out a helicopter crew who found the trio wearing life jackets and hanging on to their sunken boat. 
The three men had been in the water for about an hour when they were rescued. They were taken by helicopter to Tampa General Hospital to be evaluated for any injuries. There have been no updates made on their condition. 
The article mentioned that the helicopter co-pilot said the three men did everything right to save themselves. They called for help first, wore their lifejackets, and stayed with their vessel. 
According to the United States Coast Guard, your only priority if you capsize is to survive. This brings up the question of what to do if this happens to you while you are on the water. 
Boats that capsize are a leading contributor to recreational boating deaths and serious injuries. Inclement weather, boater inexperience, and overloading the boat can all lead to a vessel overturning. You can prevent a capsize from happening by practicing good seamanship. You want to make sure you do not overload your vessel, distribute all gear and passengers evenly so the boat has better stability, avoid anchoring from the stern at all times, navigate the vessel at controlled speeds, and stay constantly alert to other boats and waves. The Coast Guard encourages all boat drivers to slow down when encountering a large wave and try to take it head on or at an angle, but never try to power through it. 
In order to safely take a boat out on any body of water, you need to have adequate safety supplies. You will want to have extra life jackets, emergency equipment and signalling devices that you can put into your "ditch bag" on board your vessel. You and all passengers should always be wearing life jackets. It is a great idea to consider purchasing what is called an Emergency Position Indicating Radio Beacon (EPIRB), which is a device that can tell rescue crews that you need emergency help and provide them with  your exact location. 
In the event that the boat you are on does capsize, you should make sure all passengers are accounted for and stay with the boat. The Coast Guard does not advise trying to swim for shore. A capsized boat may recover on its own, and it is very unlikely the vessel will sink even if it has overturned or flooded. 
Staying with the boat will help emergency crews find you. The only time you will want to swim away from the boat is if it is heading toward a hazard. Other than that, your boat is the biggest and most visible object in the water, which is why the Coast Guard says you should stay with it. 
According to a 2019 report released by the U.S. Coast Guard, recreational boating accident fatalities decreased by 3.2% from 2018. A total of 613 boating deaths occurred across the U.S. in 2019. The total number of boating accidents actually increased from 4,145 in 2018 to 4,168 in 2019. Of those accidents, 2,559 people suffered non-fatal injuries. 
Alcohol was the leading cause of deadly boating accidents in 2019, accounting for 23% of total fatalities (over 100 deaths.) The other top four contributing factors to recreational boating accidents were excessive speed, operator inattention, operator inexperience, and improper lookout. 
These statistics serve as a reminder that all boaters must behave responsibly on the water. Everyone should wear a life jacket, enroll in a boating safety course, get their boat checked regularly, attach the engine cut-off switch, and never operate a boat under the influence of drugs or alcohol.
If you or someone close to you has been in a boating accident that was the result of another person's negligence, our Clearwater Boating Accident Attorneys at Whittel & Melton are here to help you understand your legal options. We can answer all of your questions and give you an honest and fair assessment of your case.