A man riding a bicycle Monday morning was hit and killed by a vehicle in Largo, according to police reports. 
The vehicle vs. bike accident occurred just before 6 a.m. on Starkey Road and East Bay Drive. Police pronounced the biker dead at the scene. 
The Largo Police Departments Traffic Homicide Unit responded to the crash site and is currently conducting an investigation into the tragedy. 
Police did release that they believe the man's bicycle had no tail light and that alcohol was not a factor in the crash. The driver of the vehicle did remain at the crash site, so it will be determined once a full investigation is conducted whether or not the driver will face any charges.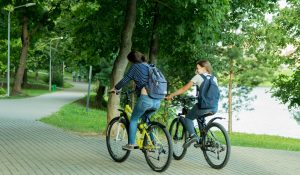 No one ever expects to be involved in a bicycle crash or even a pedestrian accident. The aftermath of these serious accidents can affect victims and their families for a long time. If you survive a crash like these, you may find that the physical and emotional recovery process is a lengthy one and you may be unable to enjoy your life in the same ways as you did before the accident. On top of this, you might be struggling to keep up with your medical bills due to not being able to work. Our Tampa Bay Injury Lawyers at Whittel & Melton are leaders in the field of pedestrian and bicycle law and are advocates for cyclists throughout the state of Florida.
We know that now more than ever bikes have become a very popular year-round mode of transportation for residents and visitors alike in Florida. We also know that regardless of how careful pedestrians and bicyclists are, they can easily become the victims of a crash caused by negligent motorists. That is why we remain committed to protecting the rights of bikers and pedestrians throughout the Tampa Bay area. 
We have seen all kinds of accidents in our years of work protecting the rights of injured bicyclists and pedestrians. We know how even the safest of bikers and pedestrians can have encounters with angry drivers who have struck them intentionally, opened their doors in their paths, or even passing too closely or driving too closely. Serious and fatal accidents can happen even in communities that have bike lanes that are in place to protect bikers and provide them with more visibility to drivers. 
Florida law is clear when it comes to pedestrian and bike laws: bicyclists have the same rights to use the roads as drivers of motor vehicles. The law also provides that drivers of motor vehicles are to exercise caution when sharing the roads with pedestrians and bikers to avoid hitting them. Sadly, despite laws protecting bikers and pedestrians, many unnecessary injuries and deaths occur every year because of distracted or inattentive drivers. 
Can I Be Found Responsible for My Own Bicycle Crash? 
As we mentioned before, bikers have rights when they are out on the roads in Tampa Bay and elsewhere in Florida. On that some note, cyclists also have legal responsibilities they must abide by just like drivers of motor vehicles. So to answer this question, yes, bikers can be held partially liable for causing an accident that resulted in their injuries. This is known as contributory negligence, and means that the biker in question may have contributed to their own crash in some way. While a police officer may write up an accident report naming you partially at fault, or an insurance adjuster working on your accident claim may make this determination, this does not mean that you are actually at fault. It is important to work with a injury attorney after your accident so that they can advocate on your behalf and make sure your rights and responsibilities are fully protected. 
Bicyclists and pedestrians alike are usually left to suffer serious injuries that can last extended periods of time. Medical bills can be overwhelming and they may be unable to get back to work right away. Our Tampa Bay Pedestrian and Bicyclist Accident Attorneys at Whittel & Melton can help you build a strong case in order to recover the financial compensation you need and deserve following a serious bicycle or pedestrian accident. 
We fully understand that many residents of Tampa choose to cycle or walk to work or even engage in these activities daily for their health or to participate in recreation activities with their families. If you've been injured by a careless driver, you deserve to have experienced legal representation to uphold the laws that make our roads accessible to all. 
You can trust our Tampa Bay Injury Lawyers to help you. We want you to contact us today if you have been injured because of a reckless driver. We offer completely free consultations and are happy to answer any questions you may have.