Four men were rescued on Friday after their boat capsized near the Sunshine Skyway Bridge.
A water rescue call came in around 12:52 p.m. for a small boat that had capsized at the bridge, according to St. Petersburg Fire & Rescue.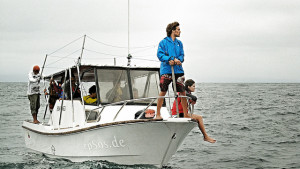 Officials were able to find all of the men – one was clinging to the capsized boat, and three others were found less than a mile off shore floating west of the bridge.
All four men that were on the boat had their life vests on.
None of the boaters were harmed.
Boat accidents can refer to a vast number of incidences and usually occur due to the following reasons:
Inexperienced Operation: Many people operating a watercraft on Florida's waterways lack the proper training or adequate experience to operate their vessels safely.
Operator Inattention: A day out on the water is a fun way to relax and relieve stress, however, countless distractions mean some vehicle operators may not be paying attention to various safety concerns, including other vehicles and channel markers.
Boating while Intoxicated: Drugs, alcohol and other substances can impair operator's judgement and reaction times, leading to dangerous scenarios where accidents are likely to occur.
Like car accidents, boating accidents can often be linked to a careless or negligent behavior. Negligent decisions that contribute to a vessel capsizing, like a captain that lacks appropriate experience, may give rise to legal liability. If you or someone you care for was injured or killed in a Tampa Bay boating accident, our St. Petersburg Boating Accident Injury Lawyers at Whittel & Melton can help. Call us today at 727-823-0000 for a free consultation and to learn more about the law and our legal expertise.