Slick roads are what caused a semi-truck to travel over a bridge in Manatee County and dive into the water.
Fortunately, a Good Samaritan saw the whole thing and came to the driver's rescue.
After the crash, the truck was crushed, sinking and leaking diesel fluid.
The 29-year-old New Jersey driver survived the crash with minor injuries.
The Good Samaritan was on his boat during the mishap and managed to get the driver out of the truck right in time.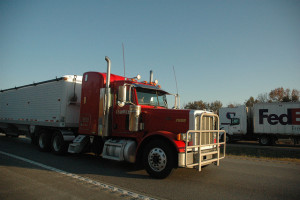 The truck's cab is completely crushed and the entire vehicle remains submerged in the Manatee River.
Florida Highway Patrol does not believe alcohol was a factor in the crash.
Millions of cars and trucks travel throughout Florida's roadways and the rest of the country each year, resulting in thousands of accidents that cause serious injury or death. Many factors can contribute to auto accidents, and wet and slippery roads are a major contributor.
The following are a few easy steps drivers can take to avoid driving errors that lead to accidents and property damage.
Reduce Speed:  Reducing your speed to below the speed limit can help prevent loss of traction from water, or even ice on the roadways. This is especially important to do on winding roads, inclines and declines.
Increase Braking Distance: When roads are slick or wet, braking distance must be increased. Hard braking can result in loss of traction as well as loss of control. This effect is heightened in larger, heavier vehicles, like tractor trailers and semis.
Stay Alert: Drivers must pay attention to road problems, traffic signals and signs, especially when facing poor road conditions. When there is inclement weather, it is important to avoid sudden steering or braking.
Accidents can still occur even when drivers are attentive to all of these details. If you have been injured in an auto accident caused by wet road conditions, a Tampa Bay Truck Accident Lawyer at Whittel & Melton can help you sort through all of the details of your accident, and help you recover maximum compensation for your injuries. For a free consultation, please call us today at 866-608-5529 or contact us online.