A woman suffered severe injuries Sunday evening in Tampa in a jet ski crash on the Hillsborough River.
The driver of the jet ski lost control after crossing into the wake of a passing boat near the North Boulevard Bridge Sunday evening, according to Tampa Police Department Marine Patrol. The jet ski struck a metal sign posted near the center channel.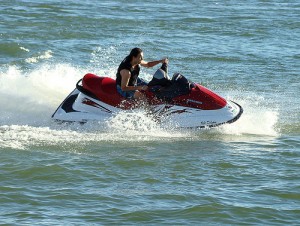 Officials believe the woman, who was a passenger on the jet ski, smashed her head on the sign. She was taken to Tampa General Hospital in critical condition. Officials have not released any further information about the woman.
The Florida Fish and Wildlife Conservation Commission is currently investigating the crash.
Investigators do not believe at this time that alcohol or drugs played a role in the accident.
In a study conducted by the University of Florida, researchers found that jet ski accidents actually produce far greater injuries than boating mishaps. The most common jet ski injuries include head and brain injuries and severe trauma to the chest and abdominal areas. Most of these injuries occur when a jet ski collides with a stationary object or other vessel causing the driver or passenger to be thrust into the object.
If you have been involved in a jet ski accident of any kind, you and your family may be entitled to financial recovery for:
Pain and Suffering
Lost wages
Permanent Impairments
Medical Bills
Future Medical Care
Loss of Enjoyment of Life
Loss of Consortium
Our Tampa Bay Watercraft and Boating Accident Lawyers at Whittel & Melton can help you recover the maximum compensation you deserve for your injuries and damages. If your loved one was killed in a jet ski accident, we understand that no amount of money will restore your loss, but it can help cover economic hardships so that you can get through this difficult time without the stress of money issues. To schedule a free consultation to learn more about how we can help you, please call us today at 866-608-5529 or contact us online.