U.S. News ranked Tampa Bay as the #15 spot for the fastest-growing places in the U.S. for 2022-2023. The neighboring areas of Sarasota and Fort Myers took the #3 and #4 spots. Interestingly enough, Lakeland, Fl took the #2 spot on the list and Ocala, FL, Port St. Lucie, FL, Daytona Beach, FL, and Naples, FL, took spots 6-9 on the list. Melbourne, FL ranked #12, Jacksonville, FL ranked #14, and Orlando completed the list coming in at #25.
Florida is booming, and the Tampa Bay area is seeing exponentially more growth. More people means more traffic, which is something people want to avoid.
At Whittel & Melton, our Tampa Bay Car Crash Lawyers know that there is really no way to entirely avoid traffic, but we can offer some insight into how to avoid congested areas so that you can keep moving, avoid a collision, and get on with your day.
Tampa Bay Rankings from U.S. News
U.S. News took on the task of analyzing 150 metro areas in the U.S. to find the best places to live, basing their research on job markets, quality of life, the value of living there and the desire to live there. Here is how Tampa ranked:
#39 Best Places to Live
#6 Best Places to Retire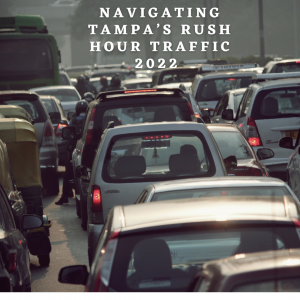 #6 Safest Places to Live
#5 Best Places to Live in Florida
And as we know, #15 in Fastest-Growing Places
Understanding the Population Growth in Tampa Bay
The 2022 metro area population of Tampa is 2,945,000, which is a 1.17% increase from 2021. Tampa's population in 2021 was 2,911,000 – a 1.18% increase from 2020. In 2020, Tampa's population was 2,877,000 – up 1.23% from 2019.
Interstate-275, I-4, I-75, SR 580, SR 582, SR 583, US 301, US 92, and Dale Mabry Highway are a few of the major stretches of roads and highways that have issues during peak travel times. Tampa's worst times to be on the roads are from 7:30 am – 9:30 am and again from 3:30 pm – 7:30 pm.
Worst Intersections in Tampa
Below you will find a list of the 30 Worst Intersections in Tampa Bay, according to FDOT. If you can avoid these during rush hour travel times, you can keep yourself and anyone else in your vehicle a bit safer.
US 19 @ TAMPA RD, PALM HARBOR
US 19 @ GULF TO BAY BLVD, CLEARWATER
US 19 @ CURLEW RD, PALM HARBOR
US 19 @ DREW ST, CLEARWATER
SR 60 @ S BELCHER RD, CLEARWATER
US 19 @ EAST BAY DR, LARGO
US 92 @ I 275, TAMPA
SR 589 @ SR 580, TOWN 'N' COUNTRY
SR 60 @ BRANDON TOWN CENTER DR, BRANDON
SR 582 @ 30TH ST, TAMPA
US 301 @ GIBSONTON DR, RIVERVIEW
US 92 @ CHEROKEE AVE, TAMPA
US 301 @ PROGRESS BLVD, BRANDON
US 19 @ PARK BLVD N, PINELLAS PARK
CR 1 @ RIDGE RD, NEW PORT RICHEY
DALE MABRY HWY @ WATERS AVE, TAMPA
SR 574 @ I 275, TAMPA
SR 574 @ I 275, TAMPA
US 41 @ SR 54, LAND 'O LAKES
US 19 @ MAIN ST, DUNEDIN
US 19 @ E TARPON AVE, TARPON SPRINGS
SR 686 @ 34TH ST N,CLEARWATER
SR 686 @ STARKEY RD, LARGO
US 301 @ BIG BEND RD, RIVERVIEW
SR 60 @ FALKENBURG RD, TAMPA
I 275 @ E BUSCH BLVD, TAMPA
SR 688 @ STARKEY RD, LARGO
I 75 @ BIG BEND RD, RIVERVIEW
CR 584 @ HANLEY RD, TOWN 'N' COUNTRY
I-275 @ 22ND AVE N, ST. PETERSBURG
Road Construction Projects in Tampa for 2022
I-275 (Howard Frankland Bridge) New southbound bridge between Pinellas and Hillsborough counties
I-275 Capacity Improvements from north of I-4 to north US 92 (Hillsborough Ave)
I-275, I-4, I-75 Wrong-way Detection Installation in Hillsborough and Pinellas Counties
I-4 ITS Communication System from I-275 to Polk County line
I-75 Ramp Reconfiguration and Interchange Modification from MLK (Exit 260) to I-4
SR 582 (Fowler Avenue) Intersection Improvements (Multiple Locations)
SR 597 (Dale Mabry Highway) Lighting Improvements at Various Intersections
SR 60 (Adamo Drive) Intersection Freight Improvements at N 34th Street
SR 60 (Kennedy Blvd) Safety Enhancements and Pedestrian Improvements from West Shore Blvd to MacDill Ave
US 92 (Dale Mabry Hwy) Drainage Improvements from Neptune St. to Henderson Blvd.
US 92 (Gandy Bridge) over Old Tampa Bay
US 92 / Dale Mabry and SR 574 / MLK Blvd – Lane closures for Spring Training Traffic
Take Advantage of Public Transportation in Tampa Bay
Both Hillsborough and Pinellas counties utilize public buses and trolley systems. The Hillsborough Area Regional Transit Authority, known as HART, has public buses running through all of Tampa and the greater Hillsborough County. There is also the TECO Line Streetcar that has routes between downtown Tampa and Ybor City. The Pinellas Suncoast Transit Authority (PSTA) has a public bus system catering to St. Petersburg and Clearwater. The Pinellas County trolley system – the Suncoast Beach Trolley – operates between downtown Clearwater and St. Pete Beach.
Call Us for Help – 813-221-3200 or 727-823-0000
Less time spent in traffic means the less you have to worry about being involved in a collision. If you have been involved in a traffic accident in the Tampa Bay area, then we urge you to reach out to us so that we can help steer you in the right direction for filing a personal injury claim for damages. Call us at 813-221-3200 or 727-823-0000 or you can contact us online 24/7 for a free consultation.