A Tampa high school teacher was arrested on Sunday for driving the wrong way near I-75, according to troopers.
Reports indicate that the Florida Highway Patrol received a call around 3:50 a.m. regarding a wrong-way driver on State Road 618 near 22nd Street.
Troopers were told a gold 2001 Saturn was traveling eastbound in the westbound lanes and would eventually turn southbound in the northbound lanes of I-75. A trooper arrested the 24-year-old teacher as he exited at the northbound Gibsonton Drive entrance ramp.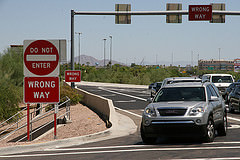 The social studies teacher was charged with driving under the influence and driving the wrong way on a limited access roadway.
The man allegedly refused to provide a breath test, but the trooper claims he had bloodshot eyes and smelled of alcohol.
This year alone has shown an outbreak of wrong-way driving on the interstates in the Tampa Bay area. Fortunately, some of these wrong-way drivers have been stopped by local police before a tragic collision occurred, as this case shows, limiting the effects of wrong-way drivers. However, unfortunately, there have been five serious wrong-way crashes on the interstates in the Tampa Bay area this year, resulting in 11 deaths and numerous injuries.
Many drivers are the victims of wrong-way accidents in the Tampa Bay area every year. Those injured or those who have had loved ones taken from them may be left with the financial burden of medical expenses and lost wages to handle on top of the pain and suffering they must go through while working towards recovery. These victims are not without relief, though, as the laws in Florida give accident victims and immediate family members the right to bring a personal injury or wrongful death claim for their damages against negligent motorists who caused a car accident.
If you have been involved in a car accident in the Bay area, a Tampa Auto Accident Attorney at Whittel & Melton can provide you with a free case consultation. We are available 24 hours a day, seven days a week, to take your call toll-free at 866-608-5529 or locally at 813-221-3200. Everything you discuss with us is completely confidential and there is no obligation on your part for speaking with us.