A Tampa man was killed Saturday night after he lost control of his scooter on Hillsborough Avenue and crashed into a power pole, authorities said.
The Florida Highway Patrol believes the 27-year-old was riding a Honda PCX150 west on Hillsborough east of Harney Road around 8 p.m. when he veered right and crossed two lanes of westbound traffic.
The scooter exited the roadway, turned into its side and struck a power pole and then a sign post. It came to rest at the entrance to Jasmine Plaza, 7031 Hillsborough Ave., according to troopers.
The man was taken to St. Joseph's Hospital, where he was later pronounced dead.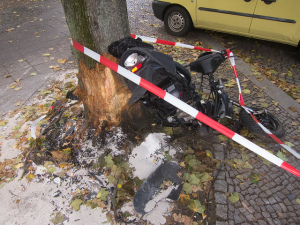 A person operating a scooter or a pedestrian struck by a scooter may sustain a wide range of injuries after becoming involved in an accident. Even minor injuries can have a serious impact on your life or the life of a loved one. Scooter accidents can result in various injuries, including:
Traumatic Brain Injury
Spinal Cord Injury
Contusions
Lacerations and Road Rash
Disfigurement
Broken Bones and Fractures
As this case shows, fatalities can occur in scooter accidents as well. A Tampa Bay Motorcycle & Scooter Accident Lawyer at Whittel & Melton can help those who have lost loved ones deal with the aftermath of a fatal scooter accident and can take action through a wrongful death lawsuit on their behalf. For a free consultation to learn more about your rights, please call us today at 813-221-3200 or contact us online.