A 4-year-old boy was mauled Saturday night by two pit bulls that had been crated at his uncle's house in Riverview.
Authorities are still trying to determine how the attack occurred.
According to the Hillsborough County Sheriff's Office, two deputies were conducting a traffic stop near the home when they heard a child's screams.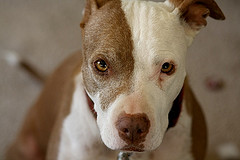 They ran to the scene and found the child in the front yard with the pit bulls standing over home. The child was pronounced dead at the scene around 10:30 p.m.
Investigators claim that the boy and his mother had walked from their home to their aunt and uncle's residence.
The uncle had crated the two dogs before their arrival.
The boy was apparently eating ice cream in the living room of the house while the adults were in the master bedroom talking.
When they heard the screams, they realized the boy was not in the house. The deputies arrived moments later.
Animal Services responded to the home and took possession of the dogs. According to authorities, this was the first call to the home for a problem with the dogs.
No charges have been filed, but authorities are still investigating.
Animal attacks are actually more common than you may realize. The American Humane Association estimates that 4.7 million dog bites happen in the U.S. every year, with nearly 800,000 of them requiring medical care.  Sadly, most dog attacks involve young children.
Nearly half of all dog bites involve children under the age 12, and more than 80 percent of dog bites are treated in hospital emergency rooms and involve children under age 15.
The ASPCA predicts that half of all children in the United States will be bitten by a dog before they turn 12. Most of these bites will be from the family dog or the dog of a neighbor or friend.
If you or your child has been injured in an animal attack, it is important to speak with an attorney as soon as possible to protect your rights. A Tampa Bay Wrongful Death Lawyer will conduct a thorough investigation into the attack, collect any evidence and deal with the responsible parties directly. We can handle the insurance companies involved with the claim so that you can focus on the grieving process and moving forward from this difficult time.
For a free consultation, please call us today at 813-221-3200. You can also contact us online to request a complimentary case evaluation.