A 40-year-old Riverview man was pronounced dead at the scene Tuesday morning after another driver apparently ran a red light and crashed into the man's driver's side door.
The Hillsborough County Sheriff's Office believes the driver accused of running the red light was travelling at about 60 mph, 15 mph over the speed limit, and failed to stop at a red light at Crescent Park Drive.
As the deceased man was maneuvering a right hand turn while the light was green on Falkenburg Road, the other driver rammed his Dodge pickup into his Pontiac.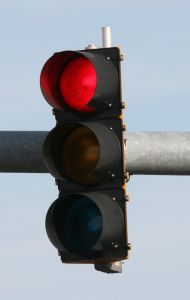 The driver accused of causing the crash has not been charged. He was taken to the hospital with nonlife-threatening injuries.
Investigators took a blood sample from the man at the scene of the crash and do not believe at this time that alcohol was a factor in the collision. Deputies are currently investigating the accident further.
Injuries caused by a driver's failure to stop at a red light are usually quite severe due to the fact that accidents of this kind occur at higher rates of speed because drivers are usually rushing through the intersection. Every year, red light accidents account for nearly 1,000 deaths and another 100,000 injuries. If you have suffered an injury or lost a loved one due to this type of accident, you may be entitled to compensation for damages.

When a motorist approaches an intersection while the light is green, they assume that it is safe to proceed. However, as the above accident shows, another driver facing a red light may not be paying attention to the signal or choose to ignore the fact that they must stop and continue through the intersection. Unfortunately, when red light accidents occur, the results can be fatal. As a surviving family member, you may be wondering what to do and how you can hold the responsible driver accountable for the loss of your loved one. For more information about your legal rights and options after a red light running car accident in Tampa Bay, please contact a Tampa Bay Wrongful Death Attorney at Whittel & Melton online or call 866-608-5529 for a free initial consultation. We can begin helping you immediately and make sure your rights are protected.