A 24-year-old St. Petersburg man was seriously injured Thursday after he lost control of a motorcycle he was driving on 36th Avenue North.
St. Petersburg police said the man was driving a 2003 Honda motorcycle in the 4700 block of 36th Avenue North early Thursday afternoon when he tried to slow down as he approached a bend in the road, but hit the ground and was ejected from the bike.
Officers claim the man was not wearing a helmet when he slid nearly 100 feet before coming to a halt.
He was transported to Bayfront Medical Center where as of Friday, he was in critical condition. No further updates regarding the man's condition have been released.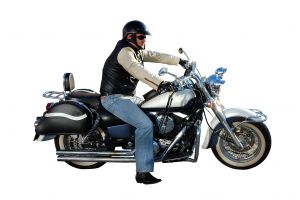 In the unfortunate event that a crash occurs, motorcyclists not wearing helmets are actually three times more likely to suffer a traumatic brain injury than those protecting themselves with helmets, according to the National Highway Traffic Safety Administration. In fact, wearing a helmet while riding on a motorcycle reduces the likelihood of being killed in a crash by 37 percent. Further research conducted by the Insurance Institute for Highway Safety shows that helmet use can reduce the likelihood of a fatality in an accident by as much as 42 percent and lower the risk of suffering a serious head injury by 69 percent.
The state of Florida modified its universal helmet law in 2000, excusing riders over the age of 21 carrying at least $10,000 of medical insurance coverage from having to wear a helmet while riding. However, it is important to point out that in the year following the changes to Florida's helmet law, the death rate among bikers climbed 25 percent.

According to the Centers for Disease Control and Prevention, from 2008-2010, a total of 14,283 motorcyclists were killed in collisions. Of those killed, 6,057, or 42 percent, were not wearing a helmet. In the states that enforce a universal helmet law, 739, or 12 percent, of motorcyclists killed were not wearing a helmet, compared to the 4,814 motorcyclists, or 64 percent, in the states with partial helmet laws and 504, or 79 percent, of bikers in the states with no helmet laws.
While wearing a helmet is not a legal requirement for Florida motorcyclists over the age of 21, it should be noted that there are benefits to wearing a helmet. Motorcyclists are at a great risk of suffering a serious injury should they become involved in an auto accident of any kind. Traumatic brain injuries and head trauma are the most common types of injuries suffered in a motorcycle accident, and sadly, the risk of sustaining a brain or head injury is increased when riders choose not to wear helmets. While the decision is up to you, the Tampa Bay Motorcycle Accident Attorneys at Whittel & Melton urge you to wear a helmet every time you take a trip on your motorcycle, no matter how short the duration. Helmets have been proven to save lives.
If you have suffered a serious injury while riding a motorcycle in St. Petersburg or elsewhere in the Tampa Bay area, contact us today online or call 727-847-2299 to make sure you recover a fair settlement for your suffering.