A recent study shows that the Tampa Bay area, including St. Petersburg and Clearwater, is one of the most dangerous cities for pedestrians. In fact, Tampa took second place in the top 10 deadliest metro areas for walkers.
The new report from the National Complete Streets Coalition, Dangerous By Design 2014, used a Pedestrian Danger Index to rank the deadliest places to walk in America. Florida is home to the top four cities.
Top 10 Deadliest Cities for Pedestrians:
Orlando-Kissimmee, Florida
Tampa-St. Petersburg-Clearwater, Florida
Jacksonville, Florida
Miami-Fort Lauderdale-Pompano Beach, Florida
Memphis, Tennessee-Arkansas-Mississippi
Birmingham-Hoover, Alabama
Houston-Sugar Land-Baytown, Texas
Atlanta-Sandy Springs-Marietta, Georgia
Phoenix-Mesa-Scottsdale, Arizona
Charlotte-Gastonia-Concord, North Carolina-South Carolina
And here are the 10 safest metros for pedestrians:
Boston-Cambridge-Quincy, Massachussetts-New Hampshire
Pittsburgh, Pennsylvania
Seattle-Tacoma-Bellevue, Washington
New York-Northern New Jersey-Long Island, New York-New Jersey, Pennsylvania
San Francisco-Oakland-Fremont, California
Minneapolis-St. Paul-Bloomington, Minnesota-Wisconsin
Portland-Vancouver-Beaverton, Oregon-Washington
Chicago-Naperville-Joliet, Illinois-Indiana-Wisconsin
Rochester, New York
Cleveland-Elyria-Mentor, Ohio
You can view the full list here.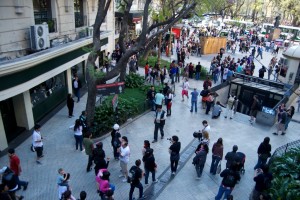 The study looked at people who walk to work as well as respective cities' fatality numbers. Through this research it was found that 47,025 pedestrians died as a result of car crashes between 2003 and 2012. Another 676,000 were injured in pedestrian-related accidents.
Pedestrian accidents are most likely to occur in the following settings:
Urban Areas
Nighttime
Clear Weather
Non-intersections
If you are going to be travelling on foot in Tampa or anywhere else in Florida or across the U.S., please follow the below tips:
Always use crosswalks and sidewalks when they are available for use.
Watch out for things going on around you. Just because you are on a sidewalk does not mean you are in the clear. Pedestrians are often overlooked by passing cars, so keep your eyes open and stay alert.
Never assume that a driver can see you.
Do not walk near freeways, restricted-access highways or other dangerous roadways where signs indicate that pedestrians are prohibited.
Avoid distractions while you are walking, such as texting, playing video games, talking on the phone and other disruptions.
Do not walk near traffic while under the influence of alcohol or drugs.
If you or a loved one has been injured in a pedestrian accident, please contact a Tampa Bay Injury Lawyer at Whittel & Melton for a free and confidential consultation to discuss your case. Call us today at 813-221-3200 or 727-823-0000.