Last week, Bay News 9 reported that a toddler fell nearly 15 feet from the top of the stands at Tropicana Field at the East-West Shrine Football Game.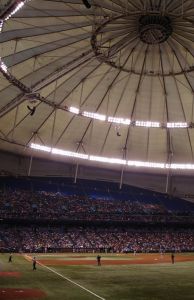 St. Petersburg Fire officials say that the boy crawled between part of the stadium's permanent seating and make-shift stands for the event, and then fell. Thankfully, the after the boy was taken to Bayfront Medical Center, his condition stabilized.
Accidents can happen anywhere, but sometimes, negligent upkeep of premises by property owners can cause injuries. When this happens, accident victims my have a claim against the property owners under Florida Law.
If you or a loved one has been injured in an accident on another person's property, contact the Tampa Bay Premises Liability attorneys at Whittel & Melton toll free at (866) 608-5529.
Our initial consultation is always free and we only recover our fees when you financially recover. Call us today to discuss your case.