Three teens are dead after a head-on crash with a semi-tractor trailer on U.S. 92 early Saturday morning in Hillsborough County, according to the Florida Highway Patrol.
A 17-year-old from Dover and his 15-year-old passenger were killed in the crash.
A second passenger, 14, was transported to the hospital in critical condition but died on Sunday from his injuries. 
At around 12:38 a.m., the teen was driving a 2008 Ford Escape going westbound on U.S. 92, west of Turkey Creek Road, when for some unknown reason he crossed the centerline of the road and struck head-on with a 2005 semi-tractor trailer, driven by a 61-year-old man, according to FHP. 
The driver and the female passenger died at the scene and the 14-year-old passenger had to be airlift to Tampa General Hospital.
The semi-truck driver was taken to Lakeland Regional Medical in serious condition.
FHP stated that all involved in the crash were not under the influence of alcohol, however the teens were not wearing their seatbelts.
Currently, there are no charges pending.
This accident highlights just how critical it is to wear your seatbelt every time you get in a vehicle. Statistics show that seat belts save lives. When used correctly, wearing a seat belt reduces the risk of fatal injury to front seat passenger car occupants by 45%, and risk of moderate-to-critical injury by 50%. For those riding in the back of a larger vehicle, like a truck or SUV, seat belts are shown to be 73% better at preventing fatalities. The sad reality is that victims are not properly restrained in more than one-half of all fatal car accidents. Likewise, children are likely to be buckled 92% of the time when adults in the car use seat belts, as opposed to 72% of the time when adults do not buckle up.
According to the National Highway Traffic Safety Administration (NHTSA), many Americans understand the lifesaving value of the seat belt as the national use rate was at 90.7% in 2019. Seat belt use in passenger vehicles saved an estimated 14,955 lives in 2017.
In 2017, 37,133 people were killed in motor vehicle crashes in 2017. Of those, 47% were not wearing seat belts, according to the NHTSA. In 2017 alone, seat belts saved an estimated 14,955 lives and could have saved an additional 2,549 people if they had been wearing seat belts.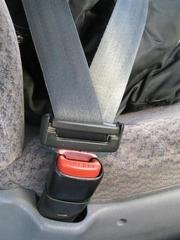 The consequences of not wearing a seat belt are pretty clear, but our Tampa Bay Auto Accident Attorneys at Whittel & Melton would like to reiterate some key facts:
Buckling up helps keep you safe and secure inside your vehicle. Not wearing a seatbelt can cause you to be completely ejected from a vehicle in a crash, which is almost always fatal. 

Air bags are not enough to protect you in a crash. In fact, the force of an airbag can seriously injure or even kill you if you're not buckled up.

Not wearing a seat belt properly, such as putting the strap below your arm, puts you and your children at risk in a crash.
The benefits of buckling up are abundantly clear:
If you buckle up in the front seat of a passenger car, you can reduce your risk of fatal injury by 45% and your risk of moderate to critical injury by 50%. 

When you buckle up in a van or truck, you can reduce your risk of fatal injury by 60% and reduce your risk of moderate to critical injury by 65%. 
Drivers should know the risks of operating a vehicle when they get inside. Cars, trucks, vans, and SUVs can be dangerous, whether you are buckled up or not. Just because you're wearing a seat belt doesn't mean you will survive a car crash. However, using a seat belt as an added safety measure, along with defensive driving skills and basic safety can ultimately help reduce your risk of suffering a serious injury or fatality in the event of a car accident.