While Louisiana and other parts of the Gulf Coast are still feeling the effects of Hurricane Ida, Hurricane Larry, another monstrous storm, is stirring up dangerous waters up and down the entire eastern seaboard as it heads toward Bermuda.
Hurricane Larry has been knocked down to a Category 2 Hurricane from a Category 3, with maximum winds clocked at 110 mph as the storm churns 425 miles southeast of Bermuda, leaving that area with a Tropical Storm warning.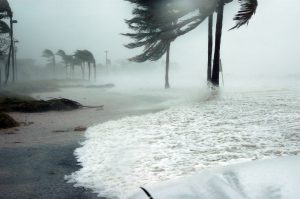 On Wednesday night, Tropical Depression Mindy made landfall as a tropical storm in St. Vincent Island, Florida. The storm brings winds of as high as 35 mph and is expected to cause an estimated 6 inches of rainfall across the Florida Panhandle as well as parts of southern Georgia and South Carolina.
Mindy is the 13th named storm of the season. Shockingly, the average formation of the 13th storm happens around October 25. The peak of hurricane season is September 10 and continues through November. This shows an alarming trend: more frequent and stronger storms hitting the U.S.
Storm names for the remainder of the 2021 hurricane season are: 
Nicholas
Odette
Peter
Rose
Sam
Teresa
Victor
Wanda
How To Handle a Hurricane or Tropical Storm Claim for Your Home or Business
After your home or business property has suffered damage from a hurricane or tropical storm, you might think it will be easy to contact your insurance company and get your claim paid out for the amount of damage that was caused. While we hope that you are not met with any resistance by your insurance provider to pay out your claim, we have seen it all on our end and know that more often than not, insurance companies will try and limit or deny these types of claims. Our Clearwater and Tampa Bay area Hurricane Claim Lawyers at Whittel & Melton are here to help you understand your insurance policy and what can be done to get your claim covered.
Our Clearwater and Tampa Hurricane Claim Lawyers at Whittel & Melton strongly recommend having a plan of action set in place before a storm hits so that you can be prepared for the worst:
Make a preparedness plan for your home or business. You can view more on how to create a family plan here. You can learn more about creating a business plan here. Being prepared is key to surviving a storm, so we urge you to set a plan in place and follow it in case of an emergency.
Take pictures of your home and business properties so that you can have photos to compare to after a storm strikes. This will also serve as good evidence for the insurance company in case you are met with some frustrations on their end. Take several good pictures of the interior and exterior. You can never have too many photos, so make sure you document all areas of your home. If you remodel or change anything inside or outside your home, you will want to make sure you snap new pictures to serve as your proof after any hurricane or tropical storm damage.
Get in touch with our Clearwater Hurricane Claims Lawyers at Whittel & Melton as soon as possible after your property has suffered damage from a storm so that we can walk you through the process of filing a successful hurricane or storm damage insurance claim. We are more than happy to meet with you for a free consultation so that we can answer all of your questions and help you get started with a claim. Call us today in Clearwater at 727-847-2299 or Tampa at 813-221-3200. You can also contact us online 24/7 online.