A speeding drunk driver collided with two people who were crossing 2nd Street N in downtown St. Petersburg early Saturday, killing one of them and critically injuring the other, according to police.
Shortly after 2 a.m., a 25-year-old St. Petersburg man was speeding on 2nd Street N in a rented Dodge Charger. The car ran a red light at Central Avenue and hit a 31-year-old Largo chef and a 28-year-old St. Petersburg man.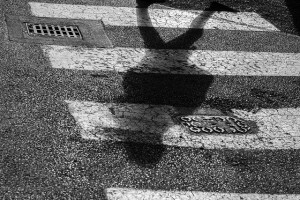 The chef died at the scene. The other man, who was sideswiped and spun onto the pavement, was taken to a Bayfront Health St. Petersburg with life-threatening injuries. He has since been stabilized, according to reports.
The drunk driver fled the scene and was arrested at the nearby Push Ultra Lounge a short time later. The driver has been charged with DUI manslaughter, aggravated fleeing and eluding, leaving the scene of a crash involving death and DUI with serious bodily injury.
The man tried to escape while in custody in the breath testing center at police headquarters, but was quickly apprehended, police said.
The deceased was a chef at The Kitchen, a restaurant just west of 2nd Street on 1st Avenue N. His wife was nine months pregnant with the family's second child, according to reports.
Police reported that the Dodge was seen speeding on 4th Avenue N after exiting I-175. DUI patrol officers spotted the car and tried to stop it as it slowed to turn south on to 2nd Street, but the car accelerated "at a very high rate," indicating it was not going to stop.
The Dodge kept speeding southbound and ran a red light at 3rd Avenue N and then at Central, where the two men were crossing Central Avenue with a green light and a crossing signal, police said.
After hitting the pedestrians, the Dodge drove off the southwest corner of the intersection and struck two concrete light pillars, ripping off the car's right front wheel. The car continued travelling along until coming to rest just before 1st Avenue S.
Drunk drivers cause more than 30 percent of fatal car accidents each and every year in the United States. When a drunk driver causes a loved one's unnecessary death or injuries, a Tampa Bay Wrongful Death Lawyer at Whittel & Melton is needed to obtain compensatory and punitive damages for your losses.
Our Tampa Bay Wrongful Death Drunk Driving Accident Attorneys at Whittel & Melton work on a contingency basis for grieving families in order to help them cope with the legal and financial strains associated with a drunk driving death.
If you have suffered the loss of a loved one from a drunk driver in the Tampa Bay area, including Tampa, Brandon, St. Petersburg and Clearwater, Bradenton and Sarasota, Whittel & Melton can help you. For a free consultation to discuss your case, call us at 727-823-0000 or contact us online.