A reported 1.5 million bottles of liquid Mucinex Fast-Max are being recalled due to manufacturing problems, more specifically, the back labels may not indicate that the drug contains acetaminophen and other ingredients.
The Mucinex Fast-Max recall was announced on Tuesday by RB, after the company confirmed a retailer's report that the back label information did not match the front.
Even though no illnesses or injuries have been linked to the recalled cold medications, this could cause problems for users taking other medications containing similar ingredients.
According to the company's announcement, "This missing labeling could cause the consumer to be unaware of side effects and/or risks associated with the ingestion of certain product ingredients which include Acetaminophen, Dextromethorphan, Guaifenesin, Phenylephrine and/or Diphenhydramine. The voluntary recall is being issued nationwide as a precautionary measure to ensure our consumers have all relevant facts and warnings for the active ingredients contained in the bottle."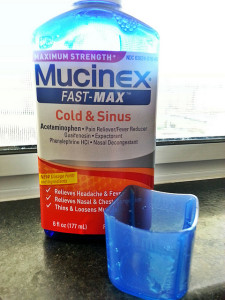 The recall involves 135 lots of Mucinex Fast-Max Night-time Cold & Flu Liquid, Mucinex Fast-Max Cold & Sinus Liquid, Mucinex Fast-Max Severe Congestion & Cough Liquid, Mucinex Fast-Max Cold, Flu & Sore Throat Liquid, Mucinex Fast-Max Liquid Combination – Day Night Severe Cold and Night-Time Cold & Flu, and Mucinex Fast-Max Liquid combination packs – Daytime Severe Congestion & Cough Night-Time Cold & Flu.
Full details, expiration dates and lot numbers can be found in the recall notice here.
The recall is concerned with the side effects of acetaminophen, which can include liver damage and even liver failure when excessive doses are received.
Acetaminophen is the most commonly used analgesic painkiller in the world. It is generally believed to be a safe medication. However, in recent years concerns have grown due to the side effects of taking this drug, including the risk of liver damage from acetaminophen overdoses, which can result in liver failure and the need for a liver transplant. It has also been tied to dangerous skin reactions, like Stephens-Johnson Syndrome.
The FDA has reported that Tylenol and other drugs containing acetaminophen may be responsible for more than 50,000 emergency room visits each year, including 25,000 hospitalizations and over 450 deaths yearly.
RB is urging consumers to safely dispose of the recalled Mucinex cold medications by mixing them with an unpalatable substance like kitty litter or used coffee grounds, placing the mixture in a sealed plastic bag or other container and throwing it away in the household trash.
Consumers with questions can contact the company directly by calling 1-888-943-4215 or by visiting the website at www.mucinexe.com/recall.
While no injuries or deaths have been associated with the Mucinex recall yet, if you believe you may have purchased a product included in this recall, you should visit the company's website to learn more and make sure to dispose of these medications in a safe manner immediately.
If you or someone you love has been seriously harmed or even died as the result of an acetaminophen or Tylenol overdose, you could possibly be entitled to financial compensation for your pain and suffering. Contact a Tampa Bay Injury Lawyer at Whittel & Melton today for a free, no-obligation legal consultation – 813-221-3200.