This Saturday, Tampa Bay-area residents and visitors join in an unusual celebration called Gasparilla, one that marks the beginning of a new year and serves as a reminder of ancient times. The Gasparilla Pirate Festival was named in honor of the pirate Jose "Gasparilla" Gaspar, who is famed for terrorizing Florida's west coast during the late 18th century and early 19th century. On Saturday, the city of Tampa will be "invaded" by Gasparilla and his men when their 165-foot pirate ship arrives in downtown Tampa, known as the Jose Gasparilla. The mayor of Tampa gives the key to the city to the pirate captain and a victory parade begins throughout the city's streets.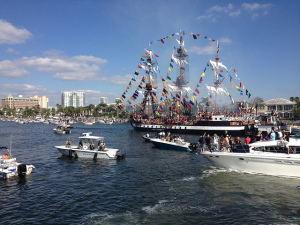 While this event is a lot of fun, it can also be very dangerous if proper steps are not taken to ensure the safety of yourself and others while on a boat. The following safety tips could be of use to you this weekend:
Make sure that you have a designated driver. In the state of Florida, it is illegal to operate any vessel on Florida waters while under the influence of drugs, alcohol or any mixture of intoxicating substances.
Keep a close watch out for other boaters and watch your speed!
It is important to make sure that you have enough personal flotation devices for everyone on board before you head out on the water.
Make sure you have all necessary safety equipment on board and in working order.
Create a float plan with friends or family and have a working VHF radio on board.
Talk with all of your passengers before you head out about what to do in case of an emergency. That way you all have a game plan should your adventure go awry.
This weekend you will see many law enforcement vessels on the waterways, including boats from the Coast Guard, Tampa Police Department, Florida Fish and Wildlife Conservation Commission and the Hillsborough County and Pinellas County sheriff's offices.
Our Tampa Bay Boating and Watercraft Lawyers at Whittel & Melton want you to enjoy yourself during Gasparilla, but keep an eye out for those who party too hard and then try to operate a boat. If you or a family member is harmed due to a boat operator's negligence this weekend, we can help you explore your legal options. We are available 24 hours a day, seven days a week, so do not hesitate to call us locally at 813-221-3200 or statewide and toll-free at 866-608-5529.