Insurance companies in America often market themselves as businesses who are looking out for you, but the truth is that these corporations are really looking out for their bottom line – making trillions of dollars annually from people like you paying your insurance premiums and then denying valid claims, rejecting various coverages, and increasing their premium costs.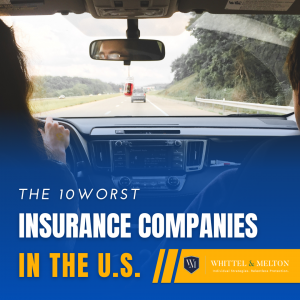 The American Association for Justice (AAJ) conducted their own research into insurance companies by combing through court documents and interviewing former insurance company employees to narrow down the 10 worst insurance companies in America. Here are the rankings:
ALLSTATE: Here is a perfect example of a company who markets itself as a business that places you in "good hands," but instead of living up to that promise they tell employees to make low offers for claims and use their team of lawyers to scare off claimants from going after the full and fair compensation they deserve. The CEO, Thomas Wilson, has openly said that the company's main priority is to increase the wealth of its shareholders. Wilson earned more than $16,300,000 in 2019, but injured policyholders got far less than what they rightfully deserved or nothing at all due to the company's unfair tactics and ambiguous language in their policies designed to trick policyholders into thinking they have certain coverages and blindsiding them when tragedy strikes because their claims will be denied.
UNUM: While you may not have heard of this disability insurance provider in the U.S., they are known for delaying and denying any claims presented to them, leaving those sick and injured with benefit denials. To break it down, Unum denied their own employee's benefits following a diagnosis for multiple sclerosis. After three years of fighting with the company, the former employee sought legal counsel to get her valid claim accepted. Sadly, this just further drives home the point that you must get legal help to level the playing field with these insurance companies.
AIG: This company has been nicknamed the "New Enron" because they have multiple charges of multi-billion-dollar corporate fraud. They are also known for creating all kinds of unfair hoops for claimants to jump through to try and get their rightful benefits and have used questionable schemes in court proceedings.
STATE FARM: While this is the top-earning insurance company in the U.S., paying their CEO more than $8.5 million or more a year, they will go to any lengths possible to delay or deny very valid claims.
CONSECO (Subsidiaries PENN LIFE and BANKER'S LIFE): This insurance provider allegedly uses bad faith insurance practices (unfair conduct that exceeds negligence) to keep their pockets lined with cash. Former employees have shared stories of false advertising and unethical policies that are aimed at taking advantage of senior citizens.
ANTHEM (Formerly known as Wellpoint): You may know this insurance provider better from their Blue Cross and Blue Shield plans as well as others. They are notorious for cancelling policies of those battling chronic illnesses as well as pregnant women. Just like all the other insurance companies, Anthem is only out to protect their money, not their policyholders.
FARMERS: This multi-million-dollar company has been ranked as one of the worse home and auto insurance providers in the U.S. by Consumer Reports and JD Powers & Associates. Reports have indicated that this company gives their employees bonuses and raises for partaking in unethical business tactics to meet their low payment standards.
UNITED HEALTH: Much of this company's success can be attributed to their partnership with AARP. They are known for creating obstacles for patients to get their medical care reimbursed, leaving them to find other ways to pay for their medical bills.
TORCHMARK/GLOBAL LIFE: This insurance provider focuses its policies on southern states, likes Texas and Alabama. Former employers have provided information that apparently shows they charge higher premiums for minority customers when compared to white customers. They also have allegations of defrauding senior policyholders.
LIBERTY MUTUAL: Another insurance company who uses shady and borderline illegal practices to keep the money rolling in. If you are seeing a pattern here, you are correct. Floridians should watch out for Liberty Mutual as they are known for abandoning policyholders after hurricane or tropical storms as well as refusing their renewals.
If you or a loved one has been harmed in an accident and are now battling your insurance company to pay you fairly, then our Tampa Bay Car Crash Lawyers at Whittel & Melton can step in start working on your claim to make sure that you are rightfully compensated. Let us deal with the headache of insurance adjusters and their chicanery. Call us now at 813-221-3200 or contact us online for a free consultation.