To help increase traffic safety, the city of Tampa is announcing new "quick build" initiatives, which includes new bike lanes.
Ybor City's Avenida de Cuba (14th Street) now has bike lanes and parking. They are a component of Tampa's Vision Zero initiative, which aims to end traffic fatalities.
These new bike lanes extend through Columbus Drive to Lake Avenue in the V.M. Ybor Neighborhood, which has historically been a dangerous area.
Cyclists in the area are praising the new bike lanes, stating that anyone can use them comfortably, no matter your age or if you are biking to work, a sports cyclist, a young child getting some exercise, or even those riding scooters.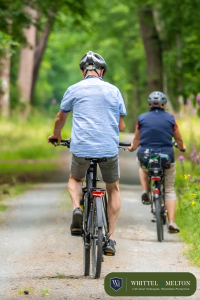 The city is funding these renovations with grant money from the US Department of Transportation's new Safe Streets For All program, which was given to the city earlier this year.
Data from the Florida Department of Highway Safety and Motor Vehicles (FLHSMV) shows that in 2022 Hillsborough County saw 305 bicycle accidents, resulting in 14 deaths and 271 injuries. In Pinellas County for the same year, 388 bicycle crashes were reported resulting in 9 deaths and 374 injuries.
What Should You Do After a Bicycle Collision in Tampa?
Following a bike accident, you must first assess any physical injuries you may have received and seek necessary medical care. After that, get in touch with our Tampa Bicycle Accident Attorneys Whittel & Melton so that our experienced personal injury attorneys can guide you through the next steps. In Florida, your medical costs and lost wages should be covered by personal injury protection (PIP) insurance. We can explain more about your coverage options when you contact us for a free consultation. To properly submit a claim, we will need detailed records of the incident, including the following information:
Accident date, time, and place
How the accident happened (as you remember it)
Statements from witnesses and/or a police report
Pictures or videos showing the scene of the accident
Pictures of the injuries you received, as well as damage done to your bike
An accident involving a bicycle might have many causes. The most frequent reasons for bicycle accidents are inattentive driving, wayward turns, dooring, crashes in driveways, bad weather, and intoxicated driving.
If someone else's negligence contributed to a bicycle accident that hurt you or a loved one, you may be entitled to financial compensation. Our Tampa Bicycle Accident Attorneys at Whittel & Melton specialize in bicycle accidents and we can assist you in understanding your legal choices and make sure your rights are upheld. You can begin the legal process by contacting us to receive a free review of your case. Call us today in Tampa at 813-221-3200 or in Pinellas County at 727-823-0000. We are happy to help you right away, and we always return phone calls.