Boating is a popular and enjoyable activity here in the Tampa Bay area, but it is also a pastime filled with accidents as well. If you find yourself hurt or injured while boating due to someone else's negligent or careless actions, it is worth speaking to a Boating Accident Injury Lawyer at Whittel & Melton about your rights.
Three adults were rescued by a Coast Guard crew eight miles west of Bean Point on Anna Maria Island Sunday after their 37-foot boat began taking on water.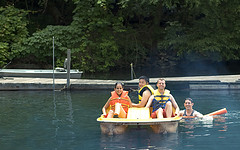 Coast Guard watchstanders at Coast Guard Sector St. Petersburg received a report around 3:50 p.m. that the boat had begun taking on water from a six-inch hole in the hull.
A boat crew from the station made it to the scene around 4:30 p.m., plugged the hole, began dewatering and put the boat in tow.
The boat was safely towed to Bradenton Beach Marina by 8 p.m.
A command duty officer at Sector St. Petersburg mentioned a valuable tip for boaters: "It is important for boaters to remember the Coast Guard can always be reached via channel 16 in an emergency. Having a marine band radio on board a vessel, like in this case, can save lives when a situation becomes an emergency."
Manatee County Fire and Rescue also responded to the accident site.
In the United States, boating collisions are the most common type of accident. More than 8 percent of all boating accidents result in fatalities. Nearly half of boating accident tragedies occur because of passengers falling overboard, with 70 percent of those victims drowning. Of these drowning accidents, 86 percent involve passengers not wearing a life jacket. The most common recreational boat accidents involve the following:
Capsizing
Falling overboard
Collisions with other vessels or stationary structures
Fires
Flooding or Sinking
Explosions
When operating a boat, there are certain steps that can be taken to prevent a boat accident injury or minimize the damage. The following tips can prove useful to boaters when an emergency situation arises:
Always have enough life jackets for all crew and passengers, and make sure everyone wears one
Refrain from drinking alcohol while boating
Always have a working VHF radio on board, a submersible model is preferable
Use GPS technologies to know your location at all times
Keep flares on board
Make sure to have a first aid kit on board
Keep fire extinguishers in an easily accessible location
Leave your itinerary with someone on land
If you or someone you care for has been injured or killed in an unfortunate boating accident in St. Petersburg or elsewhere in the Tampa Bay area, please call a Tampa Bay Boating Accident Attorney at Whittel & Melton at 727-823-0000 or 813-221-3200 or contact us online.