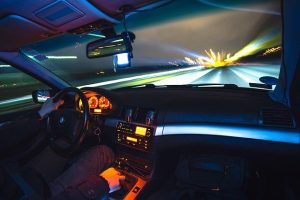 The data from Tampa is in, and it shows that while coronavirus has caused many people to stay home, the drivers that are still out are punching the gas. 
Speeds have increased by at least 7 percent through early this week, according to more than a month's worth of data collected by the city's red light camera vendor from 54 cameras. Most drivers who blow through red lights are speeding.
Data collected found a blue Ford Mustang running through a red light at 71 mph. A grey Chevy Camaro with the racing stripes flew through a red light at East Hillsborough Avenue and North 22nd Street also traveling 71 mph. 
The findings, obtained by the Tampa Bay Times through a public records request, show a worrisome trend, according to Charles Territo, spokesman for Verra Mobility, the Mesa, Ariz.-based red light camera vendor.
The cameras, which are used to catch drivers blowing through red lights, also capture the speed at which cars are traveling the moment that dreaded blinding flash signals a violation.
"The violations that are being captured are being captured at some pretty high speeds," Territo said.
And while traffic has dropped by 30 percent in Tampa, the rate of red light violations has increased by two-thirds compared to the same time frame a year ago. The company's data also shows a rise in speed around the country.
What does this mean? While there have been fewer cars on the road since March 1, more drivers appear to be developing a lead foot.
In Tampa Bay, officials are calling this trend open-road syndrome. Fewer cars tempt some drivers to indulge their Fast and Furious fantasies.
"Traffic congestion is actually a traffic calming mechanism," said Clearwater Police Chief Dan Slaughter. "People forget that."
During this crisis, many area law enforcement agencies have stopped pulling people over for all but extreme speeding to avoid the risk of coronavirus infections. Statewide, moving violations are down 92 percent due to a mix of less traffic and social distancing policies by many police departments.
In Tampa, police issued 586 traffic citations this March compared to 1,266 last March, which is a huge drop of 54 percent.
But law enforcement continues to warn people to not ignore the law even though roads may be vacant.  
Highway Patrol data comparing March 2019 and March 2020 show motorists ticketed for driving over 100 mph declined slightly in Hillsborough — from 14 to 10 — but tripled in Pinellas to 36. Drivers ticketed for blazing along at 30 mph over the posted limit fell by half in Hillsborough to 22, but doubled in Pinellas to 101.
St. Petersburg Police spokeswoman Yolanda Fernandez said the Sunshine City hasn't seen much of a problem with speeding during the crisis. In fact, crash data for the bay area's second-largest city shows a decrease from last year. From March 14 to April 14, there were 508 accidents in the city compared to 856 during the same period last year.
Fewer drivers might mean fewer crashes, but more of them are speeding, the recent data from Tampa indicates. These habits could be hard to break whenever we get to whatever the new normal will be. 
It's not just the cameras noticing, either. Hillsborough County Commissioner Sandy Murman said last week at the county's Emergency Policy Group meeting that residents have complained to her about speeding more than anything else lately.
Tampa Mayor Jane Castor has heard the calls about speeding drivers, too. She has acknowledged that reckless driving is a danger as two recent fatal wrecks on Bayshore Boulevard and on Adamo Drive have made that obvious.
The coronavirus pandemic has made the city sensitive to handing out a speeding ticket to someone who might be struggling to keep food on the table or the lights on, but common sense should prevail, Castor said.
"Individuals need to understand that just because there's less traffic on the roadways does not mean that the speed limit is not in effect. I mean, we've seen some horrific examples of what speed can do on our roadways," she said. 
During these strange and difficult times, our Tampa Bay Auto Accident Attorneys at Whittel & Melton are here ready to help you. We are working remotely, but it is business as usual. After an auto accident, we can deal with the insurance company on your behalf and make sure you receive the proper settlement or financial compensation in your case. We are also able to help you find medical providers who can assist you with any pain and suffering caused by an accident.
The most important thing you can do after an accident during the coronavirus outbreak is to contact us to make sure you get the legal guidance and support you need. All personal injury and wrongful death cases are handled by our law firm on a contingency fee basis, so you will never have any out-of-pocket costs to retain our services. We only get paid if a settlement or recovery is obtained.
These are incredibly challenging times for everyone. We hope that you and your loved ones stay safe and well.