A 54-year-old motorcyclist was seriously injured on Sunday evening after an intersection collision on St. Pete Beach.
According to reports, a 54-year-old motorcyclist from Kenneth City was driving a 2008 Harley Davidson motorcycle west on 75th Avenue approaching Blind Pass Road. At the exact same time, a woman driving a 2014 Chevy Cruz was stopped in the left turn lane of east 75th Avenue, partially in the intersection waiting for traffic to clear to turn on Blind Pass Road.
As the motorcyclist entered the intersection, the woman made a left turn as the traffic light was turning yellow.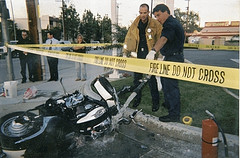 The biker was transported to Bayfront Medical Center with life-threatening injuries.
Both the driver and the passenger in the Chevy were not harmed.
The accident is still under investigation, but alcohol and drug impairment are not factors in the crash, according to reports.
Motorcyclists are far too often hit by other vehicles as they pass through intersections. Intersections are usually prime locations for collisions because motorists may speed through them or fail to yield as they rush to where they are going. Intersection accidents are estimated to account for half of all traffic-related injuries, according to the Federal Highway Administration. Sadly, intersection accidents can be especially dangerous to motorcyclists and leave them with devastating injuries.
Intersection collisions can result in catastrophic injuries, including death in some cases. For injury victims, if you can establish the other driver's liability, you may recover financial damages for your suffering if you file your claim within a specific time frame. In the state of Florida, there is a four-year statute of limitations on personal injury claims and a two-year time constraint for wrongful death suits, which can be filed on behalf of a relative or spouse who died in an accident. In order to establish legal liability and recover financial compensation, it is absolutely vital to file a claim in a timely fashion.
If you or a loved one has been injured in a motorcycle intersection collision in the Tampa Bay area, please call a St. Petersburg Motorcycle Accident Lawyer at Whittel & Melton at 727-823-0000 or contact us online. We promise to give your case the individual attention it deserves.