An adult and an infant were killed and two children were critically injured after a minivan travelling on Interstate 4 exited the roadway and crashed.
A 2008 Hyundai Entourage was heading west on the highway, west of County Road 579, around 1:10 a.m. when it left the road, according to the Florida Highway Patrol.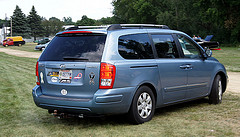 The van crossed a concrete culvert, rode up a grass embankment and crashed through a chain link fence. The Florida Highway Patrol claims the vehicle flipped several times before stopping on its left side in the parking lot of Camping World of Tampa.
The driver, a 29-year-old Wesley Chapel man, suffered only minor injuries. However, the right-front passenger, a 30-year-old adult from Tampa, was ejected from the van and died at the scene. A 5-month-old infant was taken to a hospital and died a short time later.
Two children, ages 7 and 9, were taken to Tampa General Hospital in critical condition.
Another female passenger was taken to the hospital with minor injuries.
Investigators are still looking into the cause of the crash. Witnesses to the accident are asked to contact the FHP at 813-631-4020.
Losing someone you love unexpectedly in a car accident is devastating. The grieving process can be an extremely difficult time period, and on top of that, you must deal with securing the financial future of your family. It is critical to speak to an auto accident attorney who can take care of all matters related to your loss, so that you can focus on taking care of yourself and your family's wellbeing. A Tampa Bay Auto Accident Lawyer at Whittel & Melton can help you recover financial compensation for medical expenses, lost wages that your loved one would have earned, pain and suffering and all other damages related to the collision.
If your family member has been killed in a car accident, you must make informed decisions in order to protect yourself and your family. This includes understanding the steps of filing a wrongful death claim and deadlines you must meet. In wrongful death cases, it is best to not delay in seeking advice. For a free consultation, please call a Tampa Bay Auto Accident Attorney at Whittel & Melton at 813-221-3200 as soon as possible after the accident or contact us online.